Betterment
My current experiment with robo-advisor Betterment.
Thoughts
Current portfolio of 85% stocks and 15% bonds has significant weaker performance vs market index (S&P500) within the same timeframe (see figure below)
Low annual management fee (0.25% AUM 1) compared to certain mutual fund. But still more expensive than other ETF provider like Vanguard
Tax-loss-harvesting feature did not justify its value
Tax statements provided by Betterment are clear and concise. Though I don't have experience with other institutions, so this is opinionated
Will it be more cost-effective if I find a way to hold directly ETF and ignore the Tax-loss-harvesting feature?
Fig. Comparison Betterment portfolio vs SPY (from 2018 to 2022)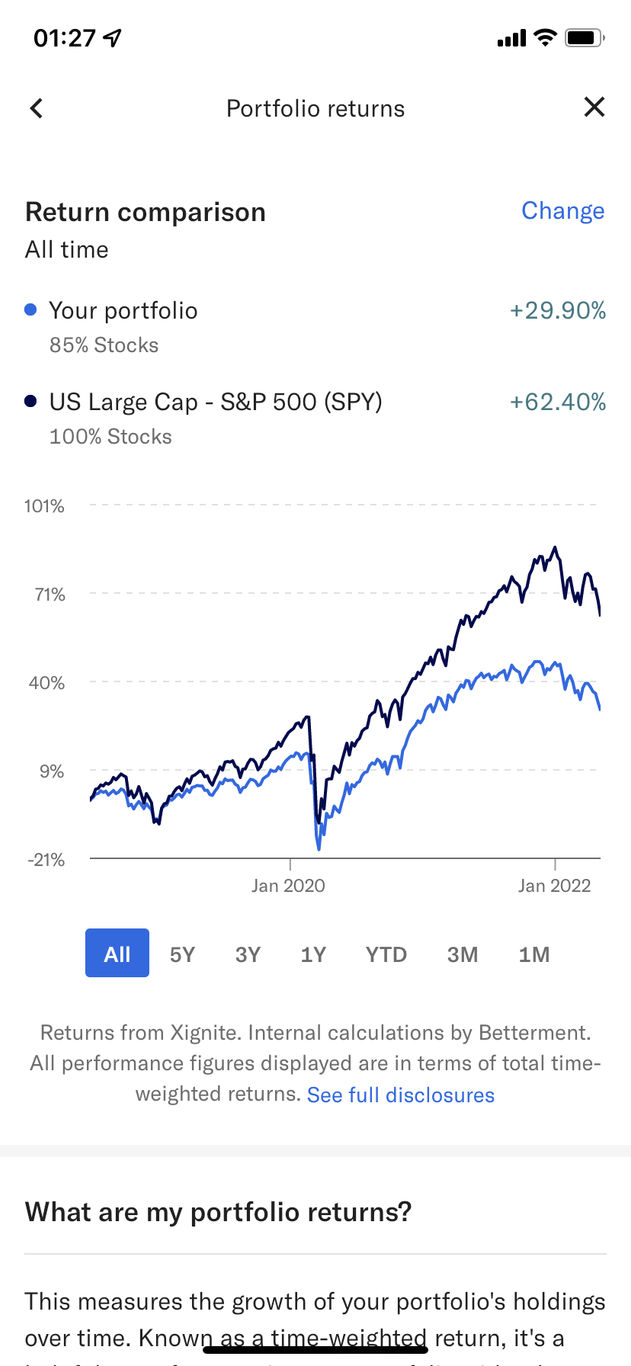 Update 2022-11-15:
Betterment changes its annual price from 0.25% into USD 4/month 2
If your Betterment balance is $15k, you now pay $48 per year vs. $37.50 per year. So it's $10 more expensive per year, for my account.
---
Footnotes
Betterment pricing page. Accessed on 2022-05-07˄
Balance
2018-04-01

open General Investing taxable account at Betterment

2018-06-30

ending balance: USD 517.38

2018-12-31

ending balance: USD 4,119.96

2019-12-31

ending balance: USD 14,635

2020-12-31

ending balance: USD 18,746.04

2021-12-31

ending balance: USD 21,568.29
Current holdings
Notes 2022-05-06
My current holdings in Betterment account
U.S. Value Stocks - Small Cap
U.S. Value Stocks - Large Cap
U.S. Total Stock Market
U.S. Value Stocks - Mid Cap:
International Emerging Market Stocks:
International Developed Market Stocks:
U.S. Inflation-Protected Bonds:
U.S. Municipal Bonds:
U.S. High Quality Bonds:
International Developed Market Bonds:
International Emerging Market Bonds:
---
Children
Tags